Designing the Carnival Mask Icon
Not too long ago, @benjacob and I were discussing about an iOS app I am working on. During that, I asked him for ideas for the app icon. After a few minutes, we both agreed that a carnival mask would do great justice to it. And thus began this intense drama in a photoshop canvas. 
The first iteration looked something like this: 
After using this on a blue background for about 3 months, I, for some reason, felt unsatisfied with it. "I could do much better' was my reaction. 
To that, my response was to research on carnival masks and masks in general. Oh! What a great deal there is to learn about these. Purposes, designs, materials and so much more. One could write an entire encyclopedia on it. 
And then, after all that learning, I put it into practice to make this preliminary sketch.
The sketch satisfied all the requirements I had penned down. Time to take it into the digital world of photoshop. And here is the skeleton in vector shapes.
Then I added some more shapes to define the various parts of the mask.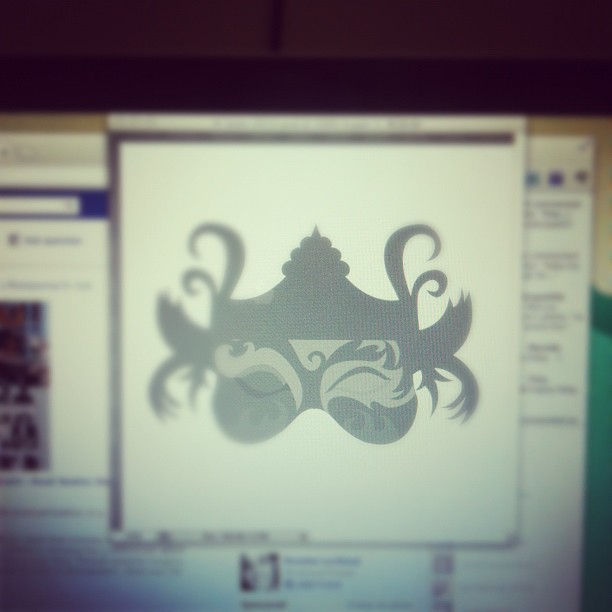 Time to put in the flat colors. 
I was able to do all that within roughly 90 minutes (sans the research). And then came the part I suck at! Adding contours to flat objects. After literally wasting an hour and a half on trying various methods, I decided to switch to a method I use to process photographs. The non-destructive dodging and burning technique. Here is how to work it out. 
To be on the safer side, group all your main files into a single group. Then, create a new layer and fill it with 50% grey and set that layer to Soft Light blending mode. And use the dodge and burn tools on this layer. The result will be effective on all layers (in this case, the group) under it. Viola! 

After several retries, when I thought I got it right, the final preview was rendered.
Then using @flarup's App Icon Template, I was able to render all icons within seconds.
And that's the story with a happy ending, which has no wars, battles, stealing girl friends, evil step mothers or any of that non-sense. Simple, straight-forward drama on a canvas. 
Footnote: Here is the mask in 150% scale showing some details: