Dezine Zync Blog
Mar 02
An open letter to the PMC, Pune Traffic Police and Fire Departments
While riding back home, after a good meal with friends, I had to suddenly halt at the St. Mira's bridge, near RSI. The reason, a man on a motorcycle, lost balance and fell of his vehicle, and was pushed on to the other side of the road. The approaching truck wouldn't have slowed down and stopped before running over him. My instincts instantly ordered me to pull him back. After doing so, I helped him back on his feet and walk him over to the side. While he caught his breath, I lifted his bike and parked it on the side of the road. But before I could lift his motorcycle, two more people slipped in the same fashion. Bystanders rushed to help them. Upon inspection, we learnt' that oil had spread on the road, causing bikers to lose balance and fall. 
But it wasn't all that bad, till one of them screamed in Marathi, "translated: The fire department wouldn't listen. I've called them roughly five times in the past 45 minutes."
His statement shocked us. What shocked us even more, is the fact that the nearest police station was 20 meters away and they failed to respond after several tries. A fellow citizen and I took upon the responsibility to manage the traffic from both sides of the street and warn people riding two wheelers to ride slowly up as well as down the bridge. 
It took the traffic police roughly 55 minutes to respond after the last report instance. The fire department personnel arrived 30 minutes after that. 
But that is the shocking part. Let me direct your attention now to the sad part. Even after the traffic police personnel arrived, they only took responsibility to check upon the injured and slow down vehicles and create small diversions around where the oil had fallen on the road. My fellow citizen, whose name I forgot to ask in all this chaos, and I stood there managing all the traffic till it was safe to let vehicles pass by themselves once again.
My point of writing about this incident is very simple. I no more feel safe while riding or driving in this city. When speaking to the fire department, I could hear the person on the line, not giving a damn. His lack of sense of responsibility as well as his arrogance, almost cost the city, the lives of two innocent people. The traffic police personnel not feeling the need to call in for backup and let us normal citizens standby and take care of the injured was the worst feeling. 

So dear Pune Municipal Corporation, the Pune Traffic Police Department and the Pune Fire Department: if you'll do not feel that your responsibilities are of any worth, or that your duties do not matter to you or not carrying them out affects anybody, then kindly resign. The city needs officials and leaders, who are ready to take responsibility and fulfill their duties no matter what. An emergency needs to be treated as an emergency, whether it affects a single citizen, or as in this case, 13 innocent riders, and 4 passengers. Two of these people, almost escaping death. 
Yours truly. 
Mar 01
"Dismissing an idea is so easy because it doesn't involve any work. You can scoff at it. You can ignore it. You can puff some smoke at it. That's easy. The hard thing to do is protect it, think about it, let it marinate, explore it, riff on it, and try it. The right idea could start out life as the wrong idea." —

Give it five minutes - (37signals)

Such important advice.

(via minimalmac)

(via minimalmac)
Feb 22
How to Remove Your Google Search History Before Google's New Privacy Policy Takes Effect -
search data can reveal particularly sensitive information about you, including facts about your location, interests, age, sexual orientation, religion, health concerns, and more.

Few months before, for the first time I opened my Google search history to find an article I read way back as a reference… and I discovered more than just link and search terms…

The way google display the data, the possibility of relating one bit to another, which will actually reveal more about you rather than just physical subjects like location data… Even my sleeping pattern and average time of sleep I get, or even the time I go to bed!
Feb 19
After my reblog to @a_rahmanshah's post,  I had the above twitter conversation with him. Very interesting. You should read it.
A myth called Indian programmers -
"There is nothing new to learn from the job I am doing in Pune. I could have done it with some training even after passing high school," says a 25-year-old who joined Infosys
Wrong place to work at if the programmer wants to do something innovative. Infosys handles client projects, not projects the company makes for retail/business value. I wouldn't consider his statement to be valid, as long as he is working at Infosys, or other such companies.
Feb 09
Designing the Carnival Mask Icon
Not too long ago, @benjacob and I were discussing about an iOS app I am working on. During that, I asked him for ideas for the app icon. After a few minutes, we both agreed that a carnival mask would do great justice to it. And thus began this intense drama in a photoshop canvas. 
The first iteration looked something like this: 
After using this on a blue background for about 3 months, I, for some reason, felt unsatisfied with it. "I could do much better' was my reaction. 
To that, my response was to research on carnival masks and masks in general. Oh! What a great deal there is to learn about these. Purposes, designs, materials and so much more. One could write an entire encyclopedia on it. 
And then, after all that learning, I put it into practice to make this preliminary sketch.
The sketch satisfied all the requirements I had penned down. Time to take it into the digital world of photoshop. And here is the skeleton in vector shapes.
Then I added some more shapes to define the various parts of the mask.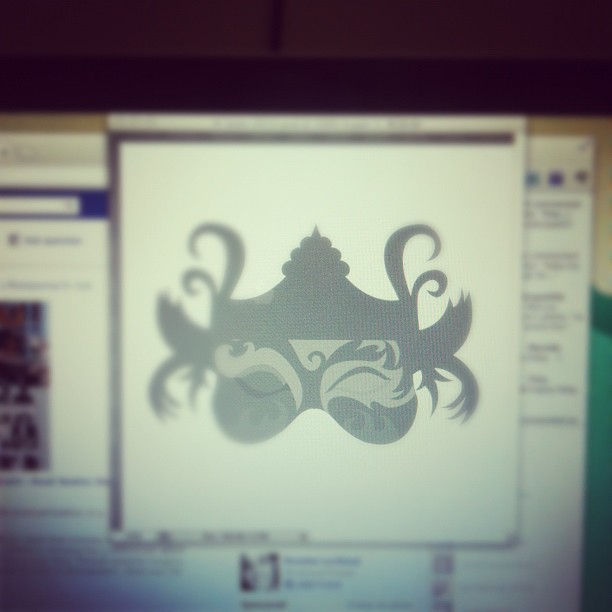 Time to put in the flat colors. 
I was able to do all that within roughly 90 minutes (sans the research). And then came the part I suck at! Adding contours to flat objects. After literally wasting an hour and a half on trying various methods, I decided to switch to a method I use to process photographs. The non-destructive dodging and burning technique. Here is how to work it out. 
To be on the safer side, group all your main files into a single group. Then, create a new layer and fill it with 50% grey and set that layer to Soft Light blending mode. And use the dodge and burn tools on this layer. The result will be effective on all layers (in this case, the group) under it. Viola! 

After several retries, when I thought I got it right, the final preview was rendered.
Then using @flarup's App Icon Template, I was able to render all icons within seconds.
And that's the story with a happy ending, which has no wars, battles, stealing girl friends, evil step mothers or any of that non-sense. Simple, straight-forward drama on a canvas. 
Footnote: Here is the mask in 150% scale showing some details: